The West Virginia Hall of Fame
December 14, 2009 · The West Virginia Music Hall of Fame welcomed 11 new members in a song-filled ceremony at the Culture Center last month, hosted by country music stars Kathy Mattea and Charlie McCoy.
Newest member Homer Bailes was delighted to be back home.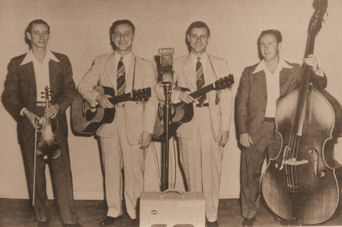 The West Virginia Music Hall of Fame inducted the Bailes Brothers - Kyle, Johnnie, Walter and Homer – in a song-filled ceremony at the West Virginia Culture Center in Charleston in November.
The Bailes Brothers were one of the most popular acts in country music in the 1940 and 50's.
"It's very exciting to realize that my home state recognizes me and calls me back to be part of the Hall of Fame here," said 87-year-old Homer Bailes, the only surviving brother.
"It means the world to me."
The Bailes Brothers were the first West Virginians to star on the Grand Ole Opry.
From there they went to Shreveport as one of the founding acts in the Louisiana Hayride.
Despite a rowdy reputation that Homer says was largely deserved, the Bailes Brothers songs were often religious, warning of the evils of alcohol.
"I would suppose subconsciously we would hope to cause someone to see their weakness and overcome it," said Bailes.
The brothers were born into poverty in Kanawha County between 1915 and 1922. They were raised by a single mother after their father died.
Homer recalls his mother doing what she could to encourage her sons to sing.
"Our mother got us one of those cheap Sears Roebuck guitars to sing in churches, revivals, home gatherings, nice places."
"Yeah they grew up in a hard-scrabble home," said musicologist Bill Malone.
There were outside attempts to have the children adopted, according to Malone, but their mother took on several jobs in order to keep the family together.
The Bailes Brothers hit song, "Give Mother My Crown" recorded by many other artists, is a tribute to her.
Other hit songs of the Bailes Brothers included "Dust on The Bible" and "Oh, So Many Years."
Many popular artists recorded songs by the Bailes Brothers including Kitty Wells, Hank Williams and Flatt & Scruggs.
Following his years on the Louisiana Hayride, Homer Bailes became a preacher. He is now retired and living in Louisiana.